Time for a Systems Change?
25th October 2019

Cafédirect certified as a B Corp last year. We were the first certified coffee company in the UK to do so. This year, we wanted to learn more about what our fellow B Corps in both Europe and within the UK are focusing on especially in relation to climate change.
Certified B Corps are a new kind of business that balances purpose and profit. They are legally required to consider the impact of their decisions on their workers, customers, suppliers, community, and the environment. This is a community of leaders, driving a global movement of people using businesses as a force for good.
There are currently over 220 B Corps in the UK and recent B Corps includes The Body Shop and The Guardian Media Group. The London B Corp "Be Inspired" conference, brought together 600 attendees and this event lived up to its title. The whole day was a mix of emotive rallying cries and examples of impressive case studies, proving that business can be conducted with purpose. It was a call for a systems change and for us all to model those changes.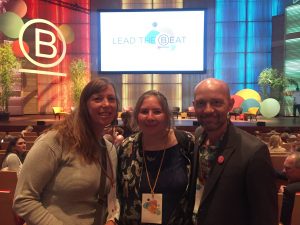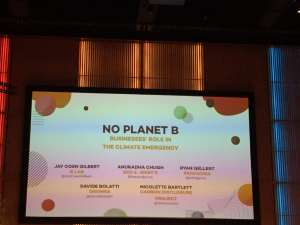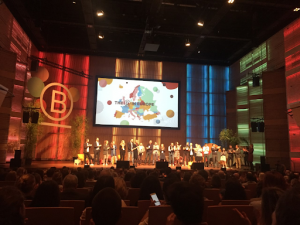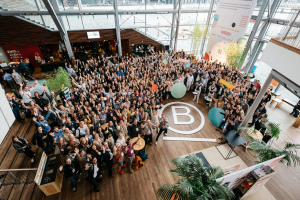 Whilst many topics were covered, the overriding message from the day was what part are we going to play to mitigate the effects of climate change?
Impassioned school students set the tone, with poems and scientific explanations on why we need to act now, (think Greta Thunberg) and that we only have 10 years before it is too late and the climate is irreversibly changed.
In Amsterdam, Ryan Gellert, MD of Patagonia shared the story of how Patagonia's Founder decided to change Patagonia's mission statement to 'We're in business to save our home planet'! Not only is Patagonia leading the way in repairing their own products and using recycled materials, but they also invest profits into grassroots environmental charities across the globe. Patagonia has recently launched an online platform called 'Patagonia Action Works' connecting activists (and concerned volunteers) to environmental charities in their own communities. 
Fairphone's product team facilitated a fascinating workshop on 'Circular Design' and discussed the challenges of trying to trace the 4000 supply chains involved in producing one smartphone. They will be launching their Fairphone 3 next month in the UK.
These inspiring talks and case studies are of course wonderful. The opportunity to share learnings and meet the actual people who are involved in championing sustainability within organisations is invaluable. There is still the urgent need for better transparency in how businesses make their commitments more visible and to set shorter timeframes (e.g.1-3 years, not 5-10 years). Businesses that are both social enterprises and B Corps (such as Divine Chocolate, Toast Ale & Cafédirect) are worth paying attention to! These companies are leading the way in being a force for good.
Find out more about B Corp
Discover Cafédirect's Impact