Surviving the festival season if you're a coffee lover
24th June 2019

With only a few days to go until Glastonbury Festival, some of the Cafédirect team have been discussing their favourite instant coffees. We don't often talk about instant, but it's an ideal way to enjoy your Cafédirect coffee whilst camping! Read on to discover our top tips as to what to bring to make a perfect instant cup of coffee.
Choose your favourite INSTANT coffee
Discover your favourite flavour. With 4 Instant flavours to choose from you're spoilt for choice and this includes a delicious Decaf option, which is ideal for when you need to pace your coffee drinking through the day and late into the night!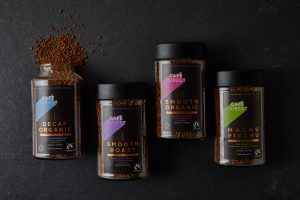 Bring a water bottle
Not only is it sensible to hydrate, especially when festivals like Glastonbury are installing a plastic ban and multiple drinking water points this year, but the basis of making great coffee is the water you use.
Use UHT milk
When you think of Long-life milk, you may shudder at the thought of adding this to your coffee, but there's a lot more milk and dairy-free options to choose from. All of your favourite almond, cashew and hazelnut dairy-free milk are available as long-life. Moo Milk provides a range of Organic long-life milk options.
Bring your favourite Reusable Cup(s)
There are many fantastic brands selling reusable cups. From Bamboo cups to collapsible cups and supermarket's own branded cups, there's definitely a cup out there for you. Also as the anti-throwaway culture grows traction with retailers, you may find that there'll be other food outlets on site that will give you a discount if you bring your reusable cup with you!
Pack your favourite biccys and Fairtrade sugar
Bring a packet of Bourbon biccys and you'll remember how great they are to dunk in your coffee, plus you'll make heaps of new friends.
If you're going to a festival this Summer, do share your favourite Cafédirect Instant pics with us on social.