Empowering Female Coffee Growers in Peru
06th March 2019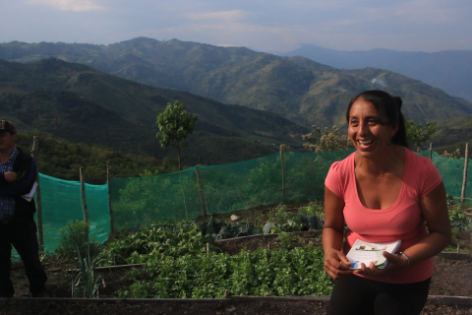 Silvia Lizana Rodriquez is from Chirinos in Northern Peru. Silvia is a member of the Cooperativa Agraria Cafetalera (CAC) coffee co-operative, which is known for producing speciality coffee. CAC works with small producers to grow and market coffee, as well as providing other practical services to its 725 members; a quarter of which are women.
Chirinos is one of seven Centres of Excellence that are run by farmers for farmers. These centres specialise in different areas of best practice, depending on the lead farmers' backgrounds. Silvia uses her expertise in quality control and her own experience of growing coffee to educate other farmers.
In her role as a 'Promoter Farmer', Silvia is also able to advocate for other female coffee farmers to take advantage of their extensive training programmes and feel supported in the process. As she says:
"I am proud to make the presence of women felt by sharing my knowledge of coffee growing and supporting other female producers."
Silvia continues to inspire women both locally and globally, in the continued efforts to achieve #BalanceforBetter.
Cafédirect is an award-winning Social Enterprise, B Corp and 100% Fairtrade coffee company, delivering impact through the farmer-led charity, Producers Direct. Cafédirect's mission is to champion the work and passion of smallholder growers, delivering great tasting hot drinks to improve livelihoods, whilst pioneering new and better ways of doing business.
Learn more about Producers Direct.
Discover more stories of female producers.