CAFÉDIRECT WIN AT SEUK!
30th November 2018

We are delighted to share that we won two awards at the annual Social Enterprise Awards held this year at the historic City of London Guildhall. The evening was introduced by Lord Victor Adebowale CBE who shared an astonishing fact that Social Enterprises together pay more tax than Google and Facebook!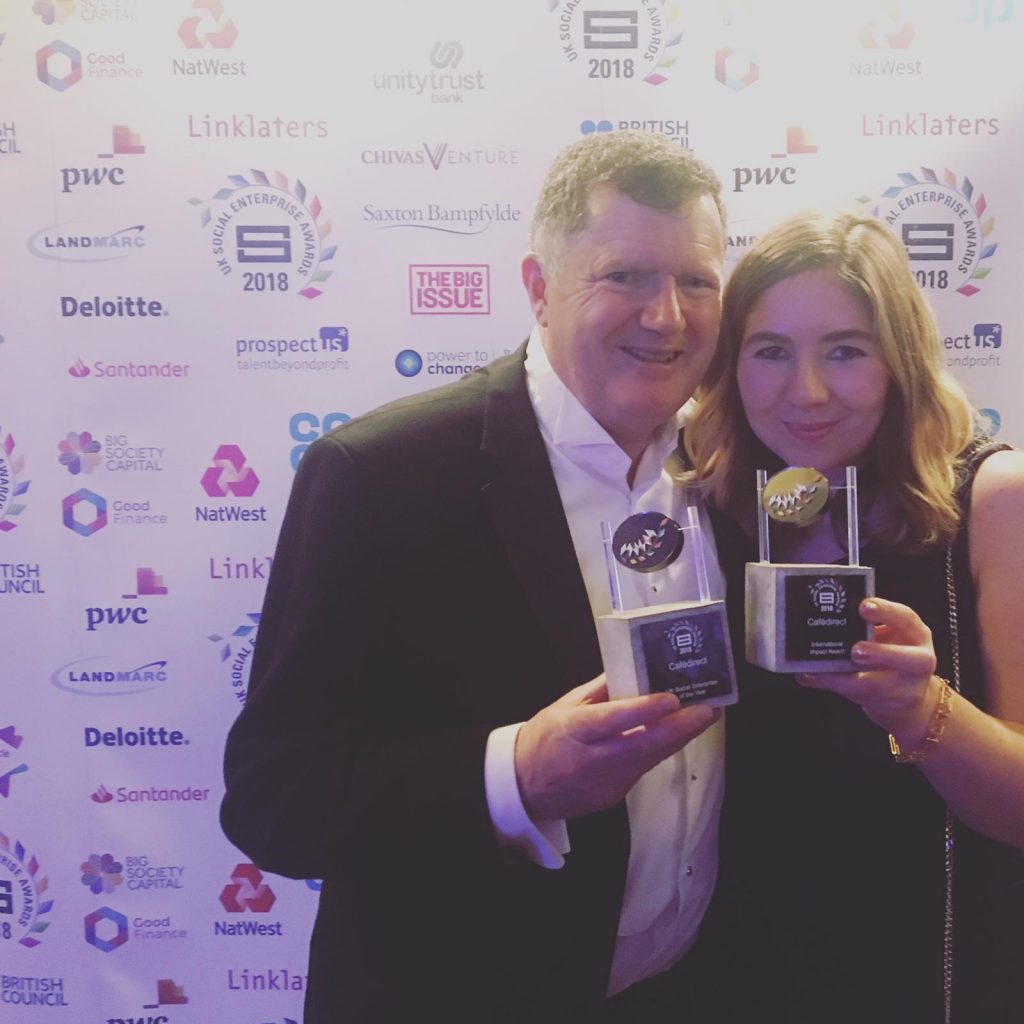 Mark Watson, the endearing half-Welsh comedian, then warmed up the excited crowd that seated more than 450 people who represented social enterprises from across the UK. As Mark charmed the crowd, we made friends with those seated at our table, including Madlug, who won the UK Consumer Facing Award for their brilliant work for children in care.
When Cafédirect was announced as the winner for the International Impact award, the CEO of Cafédirect, John Steel, walked up to the stage to the accompaniment of 'All around the World' by Daftpunk. (We hadn't realised that we could have chosen our own music!) In slight shock, John thanked the team at Cafédirect and Producers Direct, who are the farmer-led charity that deliver the international impact working alongside 38 co-operatives in 14 countries worldwide. To date, Cafédirect has invested over £6m in Producers Direct and we were delighted that this work has been recognised.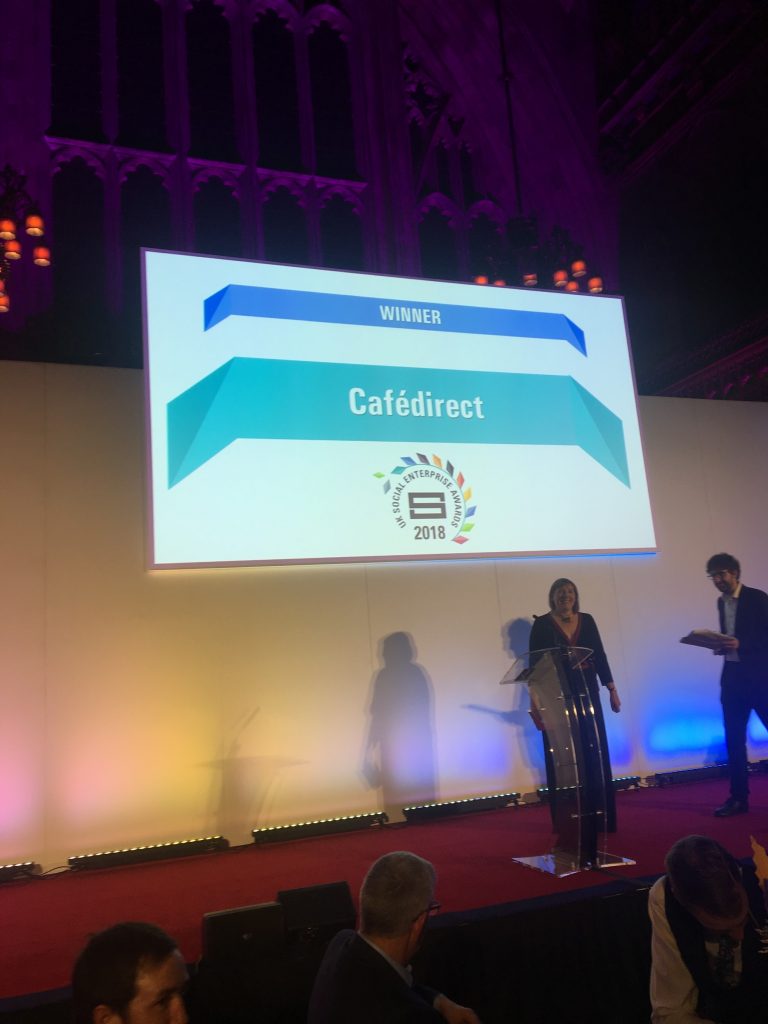 The award we received was designed by the wonderful team at Designs in Mind, that we happened to have met earlier in the evening. They already knew that we had won but managed to reveal nothing to us!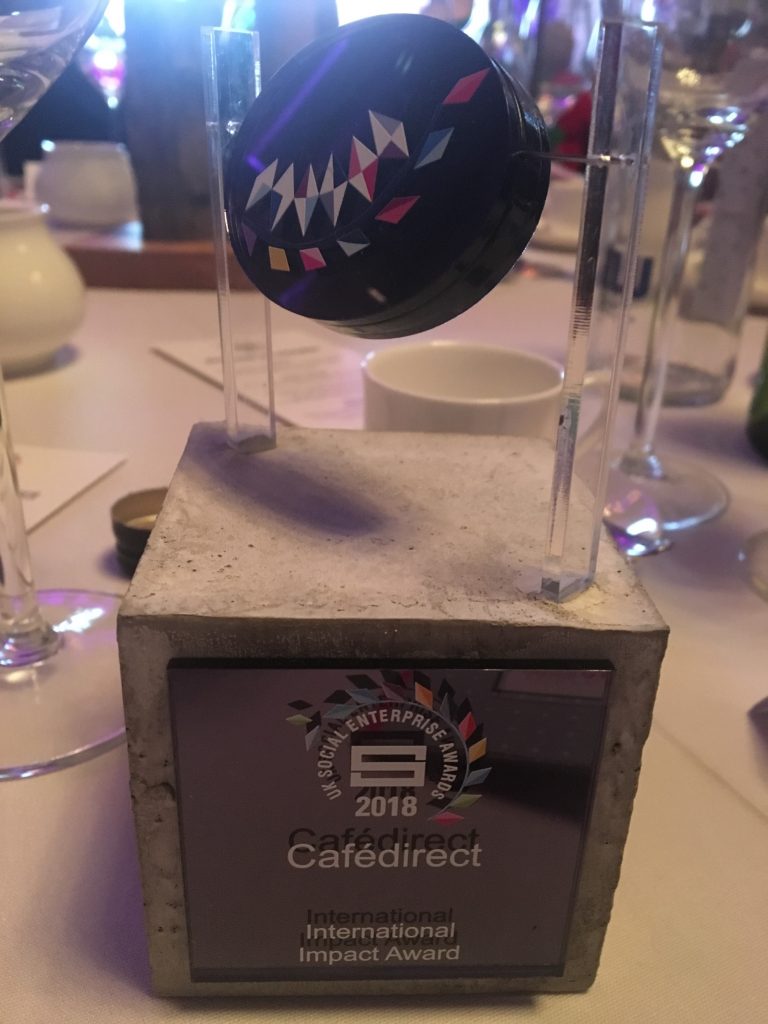 We sat back to enjoy the rest of the evening, until we unexpectedly were invited to the stage once again for the final award of the night: the UK Social Enterprise of the year award. It was an emotional experience to win the most prestigious award, which recognised Cafédirect's tremendous perseverance and resilience in supporting farmers even through the toughest of times. As the Judges' comments observed:
From decline to success! The turnaround in Cafédirect's fortune this last year has paved the way for a successful application. Re-branding, acquisitions and increased performance all aiming at improving the lives of smallholder farmers in developing countries, whilst conducting business ethically and fairly make this a worthy winner.
An emotional John Steel, Cafédirect's CEO says "It is testament to the quality, strength and character of all those involved in this amazing, pioneering business that after 27 years we are being recognised at the highest level by our peers in the Social Enterprise community."
To celebrate these awards with our customers, we are offering a special 27% off promotion code that can be redeemed on our Cafédirect Handpicked subscription coffee website: AWARDS27
Cafédirect – Ridiculously Good Coffee, Ridiculously Good Business