Becoming a 'Q Grader'
By Paul Perezgrovas
Some of you may had a relaxed holidays, but for me, December was a stressful, but very rewarding month, as after months of preparation I achieved my Q Grade coffee cupping certification.
The Q Certification System was created in 2004 by the CQI (Coffee Quality Institute) as a specialty coffee course to train and certify coffee professionals as Q Graders.
Just three weeks ago I walked into Amecafe (Mexican Coffee Institute) in Mexico City to take the Q certification course. I was nervous and exited at the time because to become a Q Grader you must pass a rigorous program of six day trainings and exams, it's like coffee marathon! Even if it sounds very fun, the course is a scientific set of exams including, timed tests, dark rooms, millimetric measurements and strict tasting protocols.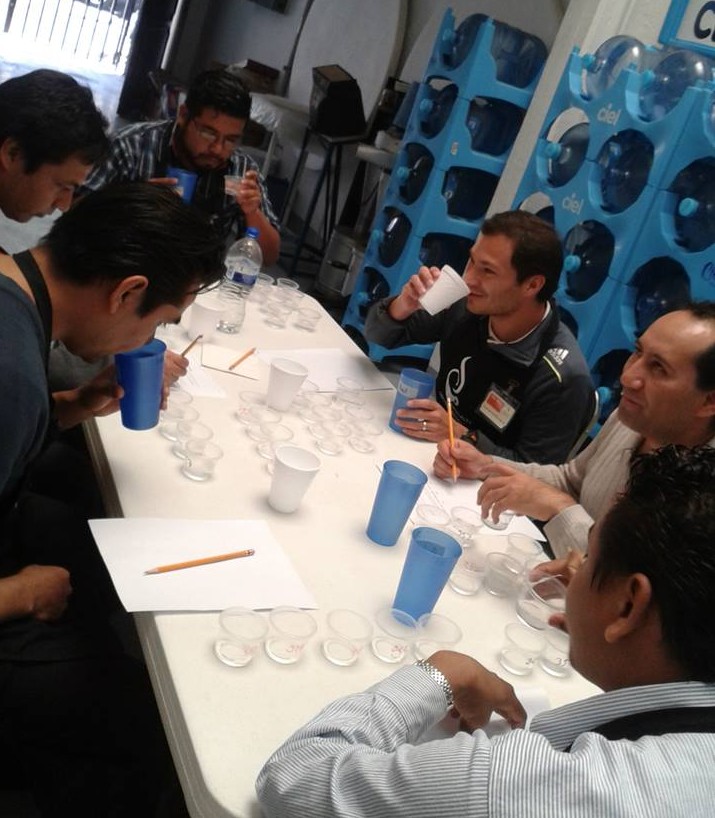 To earn the Q certification you are required to pass all of the 20 sections of coffee related subjects, such as green grading, roast identification, coffee cupping, coffee knowledge and a set of sensory skills. Some of the tests might remind you of wine tasting, as you need to correctly taste and evaluate different coffees; Washed Milds from Latin America, Natural Unwashed coffees, Indonesian and East African coffees. However it is not just your sense of taste that's tested. In the olfactory skills exam the objective is to recognize thirty six (36) common aromatic scents often found in the aroma of coffee. In the sensory skills test you must identify three (3) intensities of salt, sour and sweet odorless liquids individually and when combined in mixtures. And in the organic acids exam, participants are asked to identify acids commonly found in coffee (acetic, citric, lactic, malic, phosphoric, and quinic acid).
I was delighted to be one of only 20% of people who pass all of the tests. The testing process was a physically and emotionally charged experience, but eventually, at the moment of getting the certification you are super proud to be recognized as a coffee specialist.
The main benefit of the Q program is to unite buyers and sellers through a common quality-based language, essentially linking sellers to the buyers willing to pay a premium for high-quality coffee. There are currently over 1,000 Licensed Q Graders in 61 countries, including our own Quality Specialist in Cafedirect, Thierry Akroman.
What all this means to the coffee drinker, is a guarantee that all our coffee is tasted and strictly evaluated several times by different coffee experts to assure its quality, and results in a truly great tasting product on the shelves across the county.